Have your kids got it covered?
Written on the 1 August 2017 by Arrow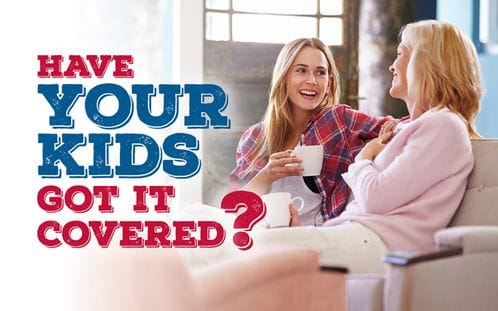 Just because your children are adults, with good jobs and maybe even married with children of their own, it doesn't mean they shouldn't be considered in your retirement plans.
Family is a risk that many don't consider when planning for retirement. After all, you probably have little or no debt now the kids are independent and you are retired or close to retirement. Hopefully you feel you have enough money saved to live the retirement lifestyle you looked forward to as you worked to raise your family.
However, unforeseen circumstances and emergencies can impact wealth. What if something were to happen to one of your adult children and they are not sufficiently insured, then who are they going to call? In most cases, it's you. Few parents would turn their backs on their children in a crisis.
Protecting loved ones
Let's say the unexpected were to happen and your son-in-law passed away tragically in his late 30s, leaving behind your daughter and two small children. If he had insufficient life insurance, your daughter could find herself struggling to pay the bills on her own.
Most likely you would step up to the plate to offer financial help, or invite your daughter to move back home with her children. All of a sudden, your travel and retirement plans are on the back burner and your well-earned nest egg may start to erode.
In contrast, if your son-in-law had made sure he had sufficient insurance cover, it would be a different story. Of course, you would still need to deal with the emotional trauma of your daughter becoming a young widow, but at least you would know she had sufficient funds to support her family.
Start a conversation
It makes sense to have a conversation with your children to make sure they are adequately covered. You are not only looking out for them but also ensuring that your life plans stay on track, given that it is a time when it would be difficult for you to recover financially.
Life insurance, total and permanent disability, income protection and trauma cover are all insurances about which your children should consider seeking professional advice. For many, life and TPD insurance can be bought through super although it's important to make sure it provides sufficient cover to meet expenses such as funeral costs, mortgage/rental payments, education, groceries, and recreation.
If your children are concerned about the cost of premiums, you might consider sharing the cost with them.
Even if your children have not yet started a family perhaps they are still living at home in their 20s a similar situation might arise. For instance, if they were to face a serious illness or a permanent injury, who would pay the medical bills? If they can no longer earn, the money has to come from somewhere.
Look after their health
It's not just life insurance you need to consider. Health insurance is also important for your adult children. Many health funds no longer cover children as part of the family premium once they reach a certain age.
Generally speaking, they will be covered up to age 25 while they are a full-time student. If not, their cover may cut out from age 18. Yet if they are injured, private cover may be necessary to get speedy access to treatment and it may be left to you to foot the bill.
If your independent child is under 25 you may be able to pay an additional premium to include them on your family private health insurance. This might be cheaper than them taking out their own private health cover.
Protect your retirement
It's easy to say you don't need life insurance once your debts are under control and to an extent this might be true. But your children may still be at the stage of life when they need full protection.
Make a time to chat to them about what cover they have and whether they think it is enough for their needs. If they are unsure, speak to us as we can assess their requirements and provide them with guidance.

Author:
Arrow