Healthy Apple Crumble
Written on the 26 November 2017 by Arrow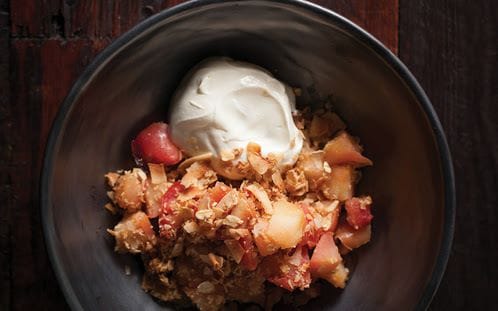 You'll need:
Filling
6 medium sized apples approx 1 kg (pink lady, fuji or golden delicious)
1 cup 100% apple juice
1 teaspoon vanilla extract
1/2 teaspoon ground cinnamon
zest from 1/2 orange

Crumble topping
1 1/2 cups rolled oats
50 g organic desiccated or flaked coconut
1/2 teaspoon ground cinnamon
1 teaspoon vanilla extract, paste
3 tablespoons organic maple syrup
3 tablespoons macadamia nut oil
handful macadamia nuts

What's great about it:
Apples are high in fibre (around 5 g) and they contain both soluble and insoluble fibre which is great for a healthy digestive system. The soluble fibre is known as pectin and the beauty of this fibre is that it has the power to help lower cholesterol, keep you regular and stabilise blood sugar, as well as decrease the appetite for hours. I've also used macadamia nut oil in my recipes which works as an anti-inflammatory and replaces traditional trans fats + margarines found in most store bought crumbles.

Method
Wash the apples.
Cut into wedges with the skin left on make sure to remove the centre.
Place the apples into a large heavy based pot.
Combine with the apple juice, vanilla, cinnamon and orange zest.
Cook over a medium-low heat for about 20-30 minutes stirring occasionally until the apples have completely softened and collapsed. I like to cover the pot for the first 10 minutes of cooking, which allows for more liquid to be released from the apples and helps to keep them moist. Remove the lid for the last 10 minutes of cooking, if necessary which helps some of the excess moisture evaporate. Your apples are now ready, taste them and adjust if necessary.
To make the crumble
Combine rolled oats, coconut, cinnamon, vanilla, maple syrup, oil and macadamia nuts into a food processor or blender.
Process for a few seconds or until mixture is combined and lovely and crumbly. Taste and adjust if necessary.
Preheat your oven to 160 C.
Pile your apple mixture into a suitable sized pie dish or baking dish.
Scatter the crumble over the top.
Bake for 30 minutes or until the crumble is golden and delicious looking.
Remove from the oven and serve with thick Greek-style yoghurt.

Notes + inspiration
Add a handful of blueberries to the apple before filling.
By Teresa Cutter - The Healthy Chef
This article is brought to you by TAL, in partnership with Healthy Chef aiming to inspire healthier, happier lives.

Author:
Arrow