How to balance healthy eating and a social life
Written on the 10 January 2019 by Arrow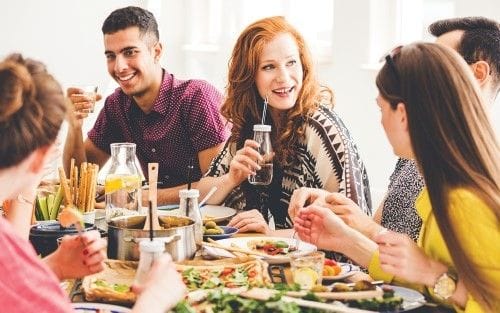 Living a healthy lifestyle doesn't always mean skipping social events to avoid temptation. There are plenty of ways to have fun with friends without compromising your health goals.
We all know the feeling you're supposed to be on a health kick, but your friends have invited you out to the pub and the bowl of chips on the table just looks too good to miss.
Sometimes balancing healthy eating and socialising can be difficult, especially if the people you're with have different priorities.
Don't worry, there is a way through. We spoke with a certified dietitian to learn about some strategies and tips that will help you make good choices and stay on track without missing out on the fun.
Sensible socialising strategies
The important thing to remember with your food choices is that it's not an 'all-or-nothing' situation. If you have a generally healthy lifestyle, what you eat on one particular occasion is not going to ruin your efforts but fretting about it could spoil a good evening with friends.
As Clare Wolski, Accredited Practising Dietitian from the Healthy Eating Hub puts it, "it's all about making sure you are happy with what you're eating and drinking in the moment and afterwards. Study the menu before you go out and decide what you'd really love to eat and you won't regret. Once you get there, make sure you take your time to really enjoy every mouthful. Not only will you appreciate your delicious meal more, but you'll also find yourself more satisfied if you eat slowly and mindfully."
Shake up your social life
Often time spent with friends is over a meal and a glass of wine, but it doesn't always have to be like that. There are plenty of ways to spend quality time with friends that don't revolve around alcohol.
How about trying a new sport or activity together like cycling or five-a-side football? It may seem scary, but attempting new activities in a group is the best way to build confidence. You never know, you might just find a new sport for life.
If sports aren't your thing, then spend time getting to know your city or town better. Check local newspapers to see what temporary exhibitions, plays, concerts and tours are on near you and rally a group of friends to go along.
Despite your efforts to plan other things, there may still be events that you want to go to that involve restaurants, pubs and cafes.
Clare suggests mapping your social events on a calendar for the month. "Pick a couple of events where you genuinely don't want to think about what you're eating and drinking. Give yourself permission to make these events exceptions to your usual routine and enjoy eating and drinking at them. This can help you to feel like you still have control over your diet, but are making room to have fun too."
Choose wisely
On every menu, there are always healthier options. Take a moment to think about what you feel like eating and what your body needs. If you're still not sure, here are a few tips about some of the best choices in different cuisines:
Italian picking vegetarian pasta will get your veg count up for the day.
Pub steak, mash and vegetables is the best choice at the pub. These whole foods are better for your health than anything deep-fried like chips or schnitzel.
Thai a crunchy Thai salad or warming soup is the way to go. They're usually packed with vegetables, and spices give heat and flavour.
Drinks let's face it, the healthiest choice is water. If you're opting for alcohol, know that there is not a huge difference between alcoholic drinks, but it really comes down to quantity. Try having a glass of water in between each alcoholic drink to slow down your consumption a little.
Don't fall into the temptation trap
It can be really tricky to avoid being tempted by food and drink, especially when it's right in front of you.
Clare suggests taking a moment to step away from the situation, "pop to the bathroom or step outside for a moment. Take a deep breath and listen to your body. Think about how you want to walk away from the situation. Make a choice that suits your present self and your future self."

Author:
Arrow