Insurance for the adrenaline junkie
Written on the 2 August 2018 by Arrow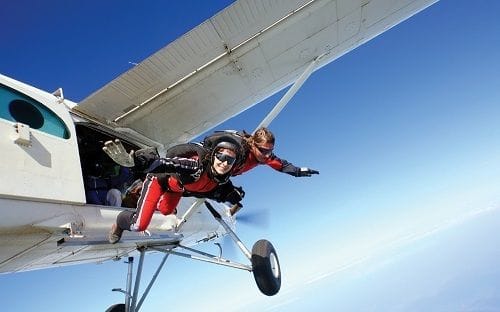 Work hard and play harder. Life is there to be enjoyed, and with the right cover you can let your sense of adventure run wild.
Our passions are what we live for. They help define our character, connect us with like-minded individuals, provide an often-needed release, and of course, are plenty of fun.
For those of us who enjoy adventure sports, we know all too well that the elation that comes from an adrenaline hit is like no other. And while you might now be your family's main bread-winner, that doesn't mean you need to stop chasing those highs.
Don't hold back
In a nutshell, participating in adventure sports means sports, pastimes or activities carries an inherently higher risk of death or injury to the participant.
Ensuring you are covered for this in your Life Insurance means that you may not have to sit on the sidelines while your friends have all the fun.
Keep fishing off the rocks at your favourite headland. Sit up in the cockpit of a seaplane and get a bird's eye view of the coastline. Get white knuckle fever and climb a mountain. Or, take the road less travelled and ski off-piste.
Other adventure sports that you can be covered for include motor sports, skydiving, hang gliding, and water sports such as jet skiing, surfing and scuba diving, plus many, many more. Keep in mind this is subject to any Special Conditions in your Policy Schedule.
Finding the right cover
Having the right cover for adventure sports can provide you and/or your family a lump sum payment if you die as a result of an adventure sport.
The cost of your cover is determined by how much you want to be covered for the cover amount you can apply for generally ranges from $100,000 to $1,500,000.
Take the plunge to reduce your risk
When you look back on your life you'll want to know that you did everything you could to support your family and give them the best possible chance in life. But as an adrenaline junkie, you'll also want to know that you left no mountain bike-trail stone unturned, quite possibly with your loved ones by your side.
So dust off the GoPro and show your family that life isn't all about putting your shoulder to the wheel it can also be about strapping yourself in behind one.
Come and have a chat to us if you'd like us to help you make sure you've got the right cover in place.
First published: July 31, 2017

Author:
Arrow