Longer Wait for Super Pension
Written on the 15 September 2016 by Arrow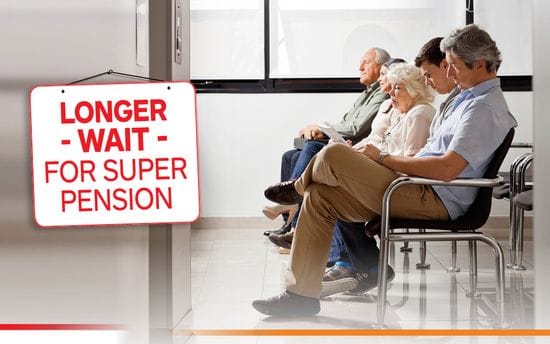 Are you thinking about early retirement? Can't wait to get your hands on your superannuation nest egg?
Then brace yourself, because the bar you need to jump before you get your hands on your retirement savings has just been raised a notch.
Generally speaking, you can't access your super until you reach a certain age, known as your 'preservation' age, and retire. And that age has just gone up, but more on that in a minute.
People who put money into super before 1999 may also have some 'unrestricted non-preserved benefits' which they can withdraw at any time.
Super offers generous tax concessions in return for 'preserving' your nest egg until you reach a minimum age set by law. Preservation simply means the money can't be touched except in cases of financial hardship, disability, death or a terminal illness.
For older Australians, the preservation age has been 55, up until now.
Rise in preservation age
From July 2015 the minimum age that a member can access their super benefits has increased to 56. As the table shows, the preservation age will continue to rise gradually until it reaches 60 for everyone born on or after July 1, 1964. Once you turn 65 you can access your super even if you haven't retired.
Even if you have no intention of retiring until you are in your 60s, the change has major implications for anyone considering tapping into their super beforehand, using a transition-to-retirement (TTR) income stream.
Date of birth Preservation age Earliest year to start a TTR
1 July 1960-30 June 1961 56 2016-17
1 July 1961-30 June 1962 57 2018-19
1 July 1962-30 June 1963 58 2020-21
1 July 1963-30 June 1964 59 2022-23
1 July 1964 onwards 60 2024-25
Source: ATO
Transition-to-retirement
If you are aged between preservation age and 65 and still working either full or part time you may be able to access a portion of your super benefits in the form of a TTR pension. This was introduced in 2005 as part of a government strategy to encourage Australians to delay retirement.
Say you are in your late 50s and would like to reduce your working hours. A TTR pension may allow you to do this and supplement your wage so you don't suffer financially. What's more, super pensions are taxed at concessional rates until you turn 60, when they become tax-free.
And it gets better. If you combine a TTR pension with other superannuation strategies, such as salary sacrifice, you may also be able to reduce your personal income tax. In other words, you may be able to withdraw income in the form of a TTR pension while boosting your super balance at the same time. No wonder this strategy has been likened to Norman Lindsay's magic 'cut-and-come-again' pudding.
If you turned 55 before July 1, 2015 you have already reached your preservation age and qualify for a TTR income stream, so the change won't affect you. But if you were born after 30 June 1960 and turn 55 this financial year you will not be eligible to start a TTR until the 2016-17 financial year that is, the year you turn 56.
Tax considerations
While the tax treatment of a TTR income stream makes this strategy an attractive proposition for many pre-retirees, lump sum super withdrawals don't enjoy the same treatment.
If you retire and withdraw your super benefits as a lump sum before you turn 60, you may have to pay tax. The tax rules are complex, so if you are considering early retirement you should speak to us.
The increase in the preservation age is a significant change and one that SMSF trustees in particular need to be aware of so they don't accidentally pay benefits to a member who is not eligible. The Australian Taxation Office warns that trustees may face penalties if the payment rules are breached.
If you would like to discuss how the increase in preservation age affects your retirement planning, or whether a transition-to-retirement strategy is right for you, please give us a call.

Author:
Arrow