Never stop learning
Written on the 11 April 2018 by Arrow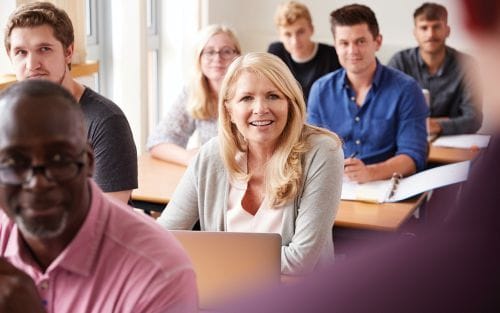 If someone asked you to name the last time you learned something new, chances are you'd think back to the last time you studied at school, uni or TAFE. It's pretty natural to equate 'learning' with formal education. But most of the facts, skills and thought processes you learn don't come from textbooks and lectures. The old saying "you learn something new every day" rings true, especially given that we're lucky enough to live in a country with good internet access and lifelong learning infrastructure. These learning opportunities are well worth pursuing and not just for the sake of your career.
The benefits of self-education
Several studies suggest serious benefits to self-driven education throughout your lifetime. One meta study from Europe concluded that there are benefits in three major areas: economic (more skills for employability), personal wellbeing (personal confidence, cognitive practice), and social.i One of the social benefits of learning new things is that you've got more to talk about, which opens up your ability to connect with new people on different levels, and thus expand your social networks.
Newer studies discuss how continual learning may help stave off age-related cognitive decline, including dementia and Alzheimer's. There are different theories as to how or why this works, but one is that learning forces your brain to make new pathways and connections which it can then use for everyday functions.
Some suggest that self-paced, self-directed learning is more effective because your brain gets to pick out the new content (stuff it doesn't know yet) and focus on that.ii But over time, the data suggests that all kinds of learning can make a difference.
Upskilling for your career
You don't have to do a holistic qualification to advance your career. Adding to your CV one single skill at a time can make a great difference to your performance, and eventually to your salary and opportunities.
Many vocational education and professional training providers offer short courses or intensive 'taster' classes. These are samples of their longer courses, and are often free or very low cost. They allow you to get an overview of a field you're interested in, or a skill you need to work on. Short courses are also a chance to see whether formal study could actually work for you. Just taking a couple of hours out of your schedule on a random weeknight could be the start of a learning journey that shapes your career.
Satisfy your curiosity
Ever wish you'd taken a different path at school or uni, so you could gain a deeper enjoyment of something that fascinates you now? There's nothing wrong with exploring an area just for your personal satisfaction that varies from your initial studies or industry. In fact, it's one of the quickest pathways to those aforementioned lifelong learning benefits.
Tips for finding cheap and free learning opportunities
Keep an eye out for festivals and events with free classes. It might be your city's arts festival, writers' festival, etc.

Visit your local council library. If it's been a while since your last visit, you might be pleasantly surprised. Most offer the latest journals and newspapers available to read in the library, as well as a variety of computer skills classes.

Look up institutions near you and check out their course catalogues. There is often quite the range of short courses available as a 'taster' of what it's like to undertake postgraduate study.

Ask someone you know to teach you something they're passionate about. With a polite, open and genuine approach, you can learn a lot for free from the people around you.

Browse what's available at free online course providers, like open2studyiii, edXiv, and Courserav.
i https://ec.europa.eu/epale/sites/epale/files/is_lifelong_learning_making_a_difference.pdf
ii
http://journals.sagepub.com/doi/abs/10.1177/1745691612454304
iii https://www.open2study.com/
iv
https://www.edx.org/

Author:
Arrow