The four main risks facing tradies
Written on the 2 July 2019 by Arrow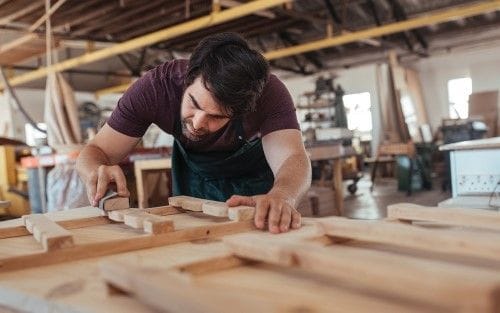 Tradies are made of pretty tough stuff, but like the rest of us, they're only human. Here we pinpoint the main risks they face and how they could protect themselves.
While tradies make up less than one-third (30%) of Australia's workforce, they represent over half (58%) of serious claims for workers' compensation, according to Safe Work Australia.i
Almost one sixth of those injuries (15%) involve musculoskeletal disorders, which can result from incorrectly lifting, carrying or putting down objects. The most common type of serious claim involves traumatic joint injuries.
But forewarned is forearmed.
Below we look at the most common types of serious claims for workers compensation made by tradies, according to Safe Work Australia, as well as important risk mitigation strategies you can implement to avoid them.
1. Traumatic joint injuries
Traumatic joint injuries make up almost half of claims made by tradies, coming in at 44%.They include injuries to muscles, ligaments such as your Anterior Cruciate Ligament (ACL), and tendons such as your Achilles.i
Risk prevention strategies include using proper lifting techniques, wearing appropriate footwear with good soles, and ensuring the areas that you're working in don't have trip or slip hazards.
2. Wounds and lacerations
Wounds and lacerations, which make up 18% of claims, include cuts to limbs, torso, head and other body parts. According to Safe Work Australia, the category also includes amputations and internal organ damage.
Risk mitigation strategies include wearing suitable protective clothing, taking appropriate safety measures when holding sharp blades, and not operating machinery in a fatigued or debilitated state.
3. Musculoskeletal disorders (MSDs)
MSDs, which make up 15% of claims, are injuries and/or disorders that have an adverse effect on the body's movement or musculoskeletal system, and can occur both suddenly or wear away at a person over time.i
MSDs may include conditions such as sprains and strains, back injuries, joint and bone degeneration, nerve injuries or compression (eg. carpal tunnel syndrome), muscular and vascular disorders as a result of hand-arm vibration, soft tissue hernias, and chronic pain, according to Workplace Health and Safety Queensland.ii
One of the best strategies that tradies could put in place to reduce their chances of MSD include using proper lifting techniques and not trying to lift too much, as outlined by Workplace Health and Safety Queensland.
4. Fractures
A fracture is a break or a crack in a bone, and the injury accounts for one in ten claims.
A fracture occurs when force exerted against a bone is stronger than the bone can structurally withstand. Common fracture areas include the wrist, ankle and hip, according to Victoria's Department of Health.iii
Risk mitigation strategies include wearing appropriate safety gear, using proper technique when lifting and putting down heavy objects, being careful when using blunt force tools and when around heights and machinery.
Going the extra mile
Of course, it's one thing to have a Workplace Health & Safety (WH&S) plan in place, but it's entirely another to actually make sure you and your place of employment are adhering to it.
State-specific WH&S plans can be found at the Safe Work Australia website, all of which have plenty of information to guide you in establishing a safe workplace.iv
Keep in mind, however, that no matter how safe your workplace appears to be, accidents can always happen. After all, 190 serious claims are made by tradies each day across Australia, according to Safe Work Australia.
That's why it's important to consider all your options and make sure you've got appropriate insurance in place.
i https://www.safeworkaustralia.gov.au/doc/infographic-serious-claims-tradies
ii https://www.worksafe.qld.gov.au/injury-prevention-safety/hazardous-manual-tasks/musculoskeletal-disorders-faqs
iii https://www.betterhealth.vic.gov.au/health/conditionsandtreatments/bone-fractures

Author:
Arrow