The Perfect Ratatouille
Written on the 30 October 2017 by Janet Culpitt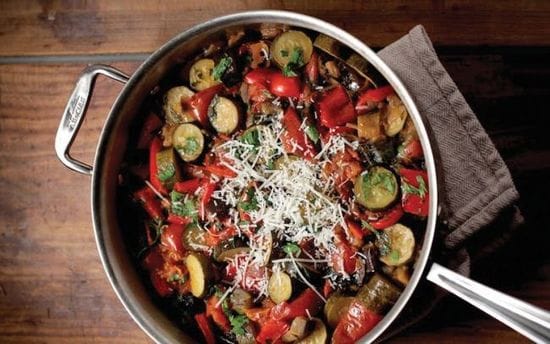 You'll need:
1 red onion, chopped
good splash of olive oil
4 zucchini (small medium) cut into rounds
2 red capsicum, roughly chopped
1 eggplant, medium sized, chopped
1.2 kg ripe tomatoes, roughly chopped
handful fresh chopped parsley or basil
sea salt and fresh ground pepper to taste
Gruyere Cheese grated to serve
What's great about it:
Technically a fruit, tomatoes are loved around the world for their versatility, rich red colour and flavour. Tomatoes are a wonderful source of vitamin B6, C, K, beta-carotene, potassium and manganese. Zucchinis are a good source of B group vitamins, which are essential for energy metabolism. The vitamin C, beta-carotene and phytonutrients, give zucchini's their antioxidant properties. Capsicums are available in a range of vibrant colours, which all contain the natural painkiller capsaicin, clinically proven to be useful against arthritic pain. Capsicums are an awesome source of beta-carotene, vitamin C, B6, E and potassium.
Method:
Heat a few tablespoons of olive oil into a large frying pan over a low heat.
Add the onion and sauté lightly until softened.
Add zucchini, capsicum, eggplant and tomato and mix through.
Add about 1/2 cup of water and cover, simmering over a lowish heat until the tomato starts to collapse and mingle into a delicious sauce.
Simmer for about 30 - 45 minutesthis is normally enough time.
Remove the lid from the pan and stir through gently.
Season with salt and pepper.
Add freshly chopped herbs or torn basil right at the very end.
Serve in generous bowls topped with a little Gruyere and enjoy.
Notes + inspiration
Serve leftovers with soft poached organic eggs for breakfast.
Instead of grated Gruyere top with Brazil Nut Parmesan.
Add a few handfuls of shredded kale whilst simmering.
Use leftovers to make a delicious vegetable lasagne.
I often serve this for a Sunday brunch just crack in a few organic eggs 8 minutes before serving, cover and gently simmer until the eggs are just cooked, but still runny inside. The perfect baked eggs!