Three apps that could help you save a ton
Written on the 11 April 2018 by Arrow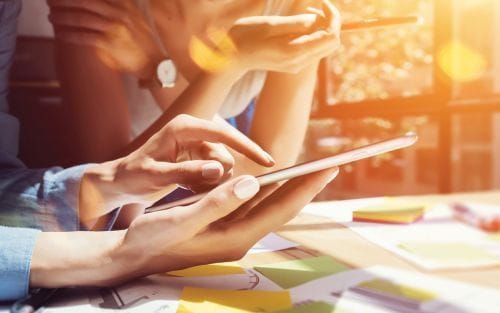 According to some estimates, the average Aussie has over 30 different apps on their phone, the most popular downloads being social media and messaging apps.i Have you got more than a few apps on your phone that don't do much for you except make your photos look funny or keep the kids entertained for five minutes at a time? We've got some suggestions that may be well worth your time literally.
Keep on track with your goals
Looking for a dead simple, branding-free, product free app to help you stay on track with your savings goals? TrackMyGOALS is an award-winning app by ASIC's MoneySmart.ii It's based on techniques that data suggests work consistently for successful savers. In other words, it's a digital version of what your smug saver mates would tell you to do. Only the app takes a bit of the effort out for you. One of the ways it does this is by allowing you to have clear visual representations of each goal. You can also prioritise goals, so you never feel like you're chipping away at everything but achieving nothing.
The voice of responsibility in your back pocket
Ever feel like it'd be handy to have someone alert you when you're getting out of line with your budget? That's what Pocketbook is for. One of its many functions is securely comparing your bank records (and manual purchase entries, for cash) with the budget you set yourself at the start. It'll alert you if you're getting close to your budget or going over your usual spend in a certain category. This way you can reel it back in again. The best part is, it's a free download.iii
Get your spare change working for you
Do you find that you're saving less now that you don't use cash as often? Do you miss chucking the shrapnel in your pocket in to a savings jar every now and then? Then a spare change investment app might take your fancy.
By now you might have heard of Acorns, the spare change investment app that launched in Australia what seems like ages ago.iv But it's not the only app that helps you save and invest your 'virtual spare change'. FirstStep is a locally-developed (Acorns first launched in the States) investment app with an option to round up everyday purchases.v It works by securely linking with your everyday transaction account, reading your transactions, 'rounding up' each purchase to the nearest dollar, and deducting that difference from your account. Your virtual spare change is then invested in the investment option/s of your choice. And you don't have to do anything; it's all automatic, yet you can change your options any time.
Making apps part of your plan
Apps can be handy for helping you stick to a plan you've established with us. But to make them work for you, you've got to remember a few key things. Before you download any money-related app not just these ask yourself a few questions:
Does the app have lots of positive reviews regarding functionality and security?
Does the app's main aim or function fit in with my personal financial goals?
How much of my private information does the app need to work effectively?
Can I delete, cancel, or recover my app information easily if necessary?
And of course, if you ever get insights or data from an app that you want advice on, we're just a phone call away.
i See report series at https://www.appannie.com/en/insights/topic/reports/
ii https://www.moneysmart.gov.au/tools-and-resources/calculators-and-apps/mobile-apps/trackmygoals
iii https://getpocketbook.com/mobile/
The information contained is provided solely for educational and informational purposes and should not be relied upon for any other reason without first independently obtaining relevant professional advice. Nothing in this communication should be construed as professional/or legal advice. We do not make any warranties or guarantees regarding the tips outlined in this communication with regard to the protection of your information. We are not liable for any direct or indirect damage and/or loss arising out of or in connection with the use of and/or reliance on any of the information provided in this communication. We are not responsible for any of the information contained on third party websites. We do not undertake any obligation to update any of the information contained on these third party websites. We do not make any representations or warranties regarding the accuracy of any of the information or content contained on these third party pages. We are not liable for any direct or indirect damage and/or loss arising out of or in connection with the use and/or reliance on the information contained on these third party websites.

Author:
Arrow